Let me talk to you today about a product. I don't know anything about how much it costs or why it is better than its competitor, but I do know that it was made in Switzerland. Hm. You may think that I'm speaking of a high precision watch, or gourmet chocolates perhaps? Let's say the product was made in Italy. Your mind probably went towards images of glossy leather shoes or designer fashions.
Now let's say that the product was made in China. What do you think now? Yes. Exactly.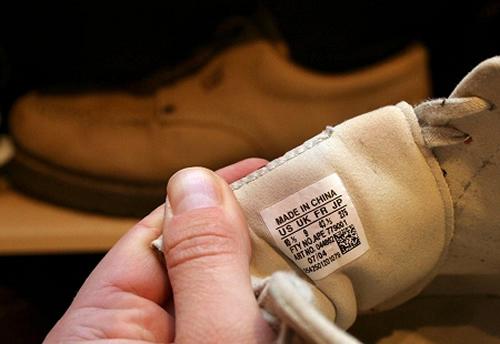 In the global economy, the label "Made in China" has come to represent a number of negative qualities: low-cost, low-quality, copycat goods that are produced in mass quantities. Many of us may not know the names of or have opinions about actual Chinese brands, but as a country of origin, China has gained a notorious reputation. We may buy products that have "Made in China" on the label, but might not expect the product to last very long, or might cynically expect to someday hear that the product contains hazardous ingredients has been recalled.
The Chinese are entirely aware of this, and to combat these very perceptions, China recently launched the country's first global brand campaign through a 30-second commercial, which has been airing on CNN (reportedly on U.S., International, Asia and Headline News) since the end of November. The ad was commissioned by China's Ministry of Commerce and a number of trade associations and was produced by the Chinese arm of international advertising agency, DDB.
The 30-second spot shows Western actors interacting with a number of products boasting a "Made in China" label, but with a postscript. Running shoes have a tag that says "Made in China with American sports technology"; an MP3 player is labeled with "Made in China with software from Silicon Valley"; a commercial airplane is stamped with "Made in China with engineers from all over the world". The spot ends with the tagline, "Made in China, Made with the World."
Let's discuss what this commercial does right. The strategic concept does hold water: after all, in a networked global economy, most products reach the shelves after having been through a highly fragmented and complex supply chain. The ad reminds audiences that although the label says "Made in China", many other companies and people were involved in the production process. In fact, more than 50% of Chinese exports are "processing exports", i.e. China becomes involved only in the final assembly and shipping phase of the production process. The label says "Made in China" but it should really say "By Way of China".
From an execution perspective, the warm and fuzzy message of global partnership does get conveyed through the soft visuals and mellow voice of the narrator. Also, the ad does succeed in portraying China as a little bit more modern than we're used to; not being subjected to images of the Great Wall, Tiananmen Square, and Mao is a little refreshing.
But the plus points end there.
The strategy to show the involvement of other countries may have been well-intentioned, but what the commercial essentially conveys is that for any given "Made in China" product, there were actually many more reliable non-Chinese cooks in kitchen watching over the process. By saying, "sure we made it, but Silicon Valley actually thought it up", they are creating an unavoidable comparison between themselves and a platinum brand; instead of elevating the Chinese by association, the parallel damages their credibility as innovators and relegates them to mere manufacturers.
Another thing: even though the commercial is intended for a global audience, it speaks with a very Chinese voice. The phrase "American Sports Technology" means nothing to an American. The ad would be far more effective if we saw a runner lacing up a shoe that read "Made in China, with Reebok technology"; after all, Reebok represents something to the average consumer. Using generic representations of other nations as ingredients in your own nation branding doesn't really work.
From an execution perspective, the ad fails in making the "Made in China" brand relatable. Chinese-made products are bought by people from every ethnic and income background, but the actors are all middle to upper-class Caucasians, reflecting a non-diverse (perhaps stereotyped?) mindset of Westerners. Also, the taglines suggest partnership with "French designers" and "engineers from all over the world" — where are these people? If China would like to prove that other nations and people are involved in the production process, why not actually show them, instead of simply the end consumer?
One way to also enhance the image of Chinese brands would be to also include… some Chinese brands. Why not show a businessman using a Lenovo laptop? Or people using China Mobile phones? This way, the generic "Made in China" identity benefits from being associated with individual successful Chinese brands, they gain more Western exposure, and everyone goes home happy.
This new commercial was not really reviewed by the national media here in the U.S, and seemed to have slipped by the marketing press entirely. Perhaps the Chinese don't want to make a splash about it, seeing as the ad is being run only on one news network and news of campaign was only given to English-language channels in China, not the more important and influential Chinese networks. Perhaps this is just a project that a handful of bureaucrats were assigned to complete. But it still remains an intriguing case study in global marketing and perceptions of global consumer culture. For all the reasons that China is mentioned in the mainstream media, it would be nice to see some coverage on issues like this as well.